Another month, another rad PNKSLM party. Three live Rock & Roll bands, plus the usual PNKSLM dj crew blowing minds til everyone gets thrown out. Here we go again: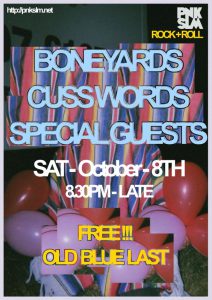 SATURDAY 8TH OCTOBER
THE OLD BLUE LAST, SHOREDITCH
8.30PM – LATE
FREE ENTRY
PLAYING LIVE:
BONEYARDS

Boneyards are a fucking energetic rock band who just put out a great tape on Italian Beach Babes. In IBB's words; "Boneyards are equal parts garage rock party band and breakneck punk rock rippers. Sounding like every single one of John Dwyers projects over the past 10 years, executed by a bunch of snotty kids playing catchy as hell garage punk." Sounds alright, no?
CUSS WORDS
Cuss Words come from Kent, but sound like they come from Adam Stonehouse'sfavourite wet dream. They've just been pissing off the nation on tour with Horses, and are now coming to PNKSLM to see how much noise we can handle. We're excited.
& ONE MORE BAND TBC
Michael Jackson had to pull out of this one, as it turns out he's been dead for a year. We're working on a special guest replacement though, don't you worry. More info on that before the night.
& THE PNKSLM ROCK & ROLL DANCE PARTY
Our usual PNKSLM DJ posse will be getting smashed and playing 50s RnR, 60s Garage, 70s Punk, hopefully nothing from the 80s, very little from the 90s, and a shitload of awesome new stuff to dance to, all the way till we all get thrown out.